Book - Pereira Maintains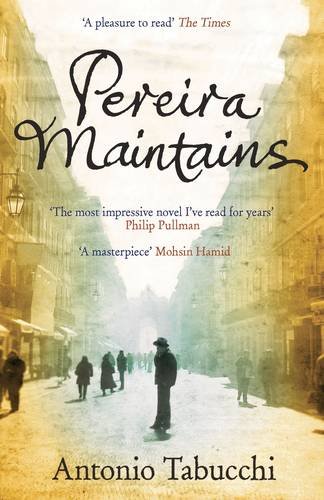 Pereira Maintains
by Antonio Tabucchi
Rating: ★★★★★
Synopsis: In the sweltering summer of 1938 in Portugal, a country under the fascist shadow of Spain, a mysterious young man arrives at the doorstep of Dr Pereira. So begins an unlikely alliance that will result in a devastating act of rebellion. This is Pereira's testimony.
Just the most amazing book.
So subtle and perfect novel. So moving, so real.
Told in the past tense, as if Pereira is telling his version of events to the police, it is the story of a widowed, lost soul who edits the culture column for a weekly paper and hides for the fascist civil war in Spain that is changing his Portugal upside down. I strange relationship evolves with a young rebel and his girlfriend that slowly opens his world to the political struggle happening all around him. Pereira keeps doing the right thing, helping the underground, although he pretends it is unwittingly done.
In the end, he is fully exposed to the reality of the war and again, does the right thing. Clearly the young man is himself, his conscious. Clearly the woman is his dead wife. But you don't have to read or see any of this on this level, the book just works.
Wonderful.