Book - Mortal Engines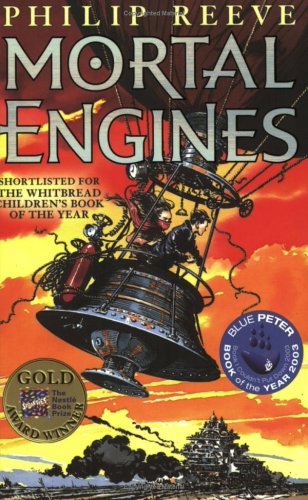 Mortal Engines
by Philip Reeve, David Frankland
Rating: ★★★★★
Synopsis: Tom and Hester have been thrown together. Truly-thrown out of a city on wheels that's left them stranded and starving in the middle of nowhere while it hares off after its prey. Hester is desperate for revenge, and Tom is only desperate to get back on board his beloved London. This is a stunning literary debut from Philip Reeve. A novel that defies easy categorisation, it is a gripping adventure story set in an inspired fantasy world, where moving cities trawl the globe. Peopled with convincing and utterly likeable characters, this story is a magical and unique read.
My company publishes this book and I felt almost obligated to read it; however, I am really glad I did. It is wonderful! The characters are very human and the plot so well conceived.
It takes place way in the future and most cities are on tractor treads and hunting each other. After centuries, the prey is getting harder and harder to find. London digs up some old technology, some engergy beam, and decides to blast its way into a defended area of cities still on land.
Two young couples join up to stop the killing…
I will say no more. Go read it.