Spring Allotment Goodies Start
We got off to a slow start this year. We dug and covered and dug and covered and dug and attempted to really get out as much of the bind weed and cooch grass that we could. We left our asparagus for another year's root development. We weeded everything we could. And then planted.
Peas are off to an anemic start, only 8 inches off the ground and flowering too soon.
Corn, eggplant and tomatoes are only 6 inches high
Red onions rotted and failed
Only 50% of garlic and shallots survived
1 out of 6 courgette plants have survived
Our 3 artichokes were devoured by black fly
However, all this might be fine, we just haven't been doing this long enough to know. Because we still have: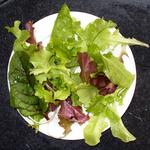 An amazing raspberry crop
Huge promise with blackberries
A good crop with blueberries
Super lettuces
Cucumbers that look healthy
Beans are climbing or bushing out nicely
Fabulous fennel
Fingers crossed for better weather this year.