Play - Avenue Q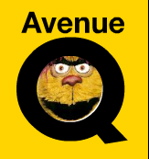 Usually I like my comedy dark & twisted, but adult & irreverent works too. Avenue Q has it nailed. Wrapped up as a sort of Sesame Street for adults – a musical with puppets – it is actually a far more interesting guide to starting out in life having coming from a largely useless liberal arts university (something I know a lot about).
The songs are hilarious, the puppets add a visual humour that actors probably couldn't get away with. My favourite songs had to be Schadenfreude, sung by Gary Coleman (really!) about why being a bum or a washed up child actor was good for hummanity, We Are All a Little Bit Racist and of course, The Internet was Made for Porn.
If you can see this, I really recommend that you do.