Eggplant (Aubergine) Parmesan
I don't know if I will have the energy to keep this up, but I thought that I might put up a few recipes on the site as I settle on a good one. This all started a few years ago when my brother (in New York), mother (in Milwaukee, Wisconsin) and I (London) all started trading new recipes. I wrote a little web application to track them. Unfortunately, due to a major server problem (kernel panic) we lost all of them, and the mounted back-up disk (long sad story). However, in recent years we have slow started again.
So here is my first entry: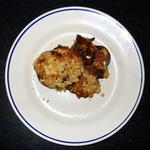 Eggplant (Aubergine) Parmesan
This classic has become complete comfort food for my wife and me. We make it a few different ways (which are in the recipe) depending on what we are doing with it. If it is a meal, we usually grill the eggplant. If its for a smaller portion, we might bread and fry the rounds first. The problem with this method is a) the fat and b) Angela eats every other round before I can assemble the dish.
I think this makes a great main with a rich salad like a Caesar or one with fruit, nuts and/or cheese. It can also be a side with some grilled fish or appetiser. Very versatile.
Here is my recipe