Play - The Nutcracker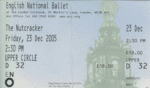 We figured that this might be the year to take the boys (aged 4 and 6) to see The Nutcracker. We have fond memories of seeing it as children and as adults. The production we picked was the English National Ballet's version at the Coliseum.
While the costumes and the set was really well done, designed by the excellent Gerald Scarfe. The ballet itself was quite boring. Not just for me, the boys weren't that interested either. It wasn't the dancing either, it was the choreography.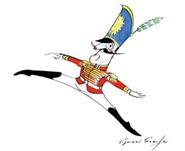 There was a lot of walking around and very little dancing. On top of that, I felt that the director sort of 'ignored' the hints in the music to parallel the motions… if you know what I mean. Perhaps I was always spoiled by seeing George Balanchine versions in New York and Milwaukee. But I was pretty unhappy considering the cost, it was not the magical day out I was hoping for.