Book - At the Edge of Honor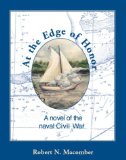 | | |
| --- | --- |
| [<a /assets/images/="" target="_blank">US</a> | UK] |
At the Edge of Honor by Robert Macomber
My father-in-law loaned me this book. He had heard the author speak recently and was impressed with him. Apparently he has lectured at Annapolis on guerrilla tactics and is a sailor.
I assumed it would be pretty boring, as it deals with a fictional captain in the East Gulf Blockading Squadron during the Civil War. Not that it wouldn't be well written, but really, how much happened there…
Surprisingly, a lot happened and the book is very well written. While some of the story-lines weren't as interesting, I really enjoyed it. In fact, I am looking forward to read the next two books in the series.