Book - Darwin's Radio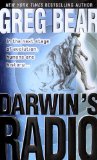 Darwin's Children by Greg Bear
I love Greg Bear's other science fiction writing and Darwin's Radio was excellent, so I had to read this.
Its been out for a while, but I hadn't seen it in the UK… until I founding it in the library… and its excellent. About the role of viruses in the evolution and development of humankind.
My only criticism is that the end just sort of happened. No big revelation, no big climax.